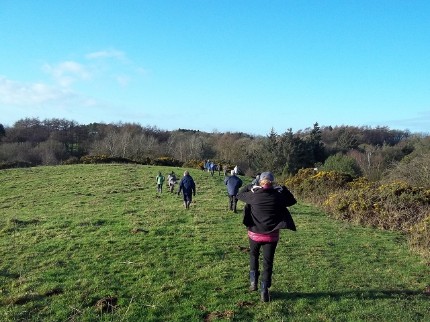 Following the success of the monthly Village Walks, we are starting to compile some guides to the walks so that our most popular walks around Fulford and the surrounding areas, can be enjoyed at any time of year.
If you are interested in joining our regular Village Walks, please see the What's On in Fulford Page for details.
Views of Fulford taken on our walks also appear on the dedicated Photos page.
We have created a series of family orientated walks based around the village which is a short distance from Stoke-on-Trent and Stone.
The walks venture mainly across open farmland and with excellent views of the surrounding areas. Terrain is fairly easy going, although any walks based to the East of the village can be quite muddy after prolonged periods of rain due to soil conditions.
This series of walks has been put together by the Fulford Village Group, which was originally set up in 2008 to ensure the continued survival of the village pub and improve the sense of community spirit. The Group organises an annual local music festival (Fulfest), a series of walks between October and June, and also undertakes works to maintain the appearance of the village, obtaining high praise in the annual Best Kept Village competition.
Please remember that Fulford is a working rural village which is situated firmly within the Green Belt area to the east of Stoke-on-Trent. As a working village, please take care when out and about of horse riders, tractors and other farm traffic, as well as the animals.

Respect the country code and ensure that any gates are firmly closed and locked behind you. Please also ensure that you do not leave litter lying around.

You can find out more about the history of Fulford and the places that you will see on the walks on our History page.
The guides (PDF format) appear below, but cover the following walks:
Walk 1 Fulford to Stallington
Distance: 2 1/2 miles Time: 2 hours